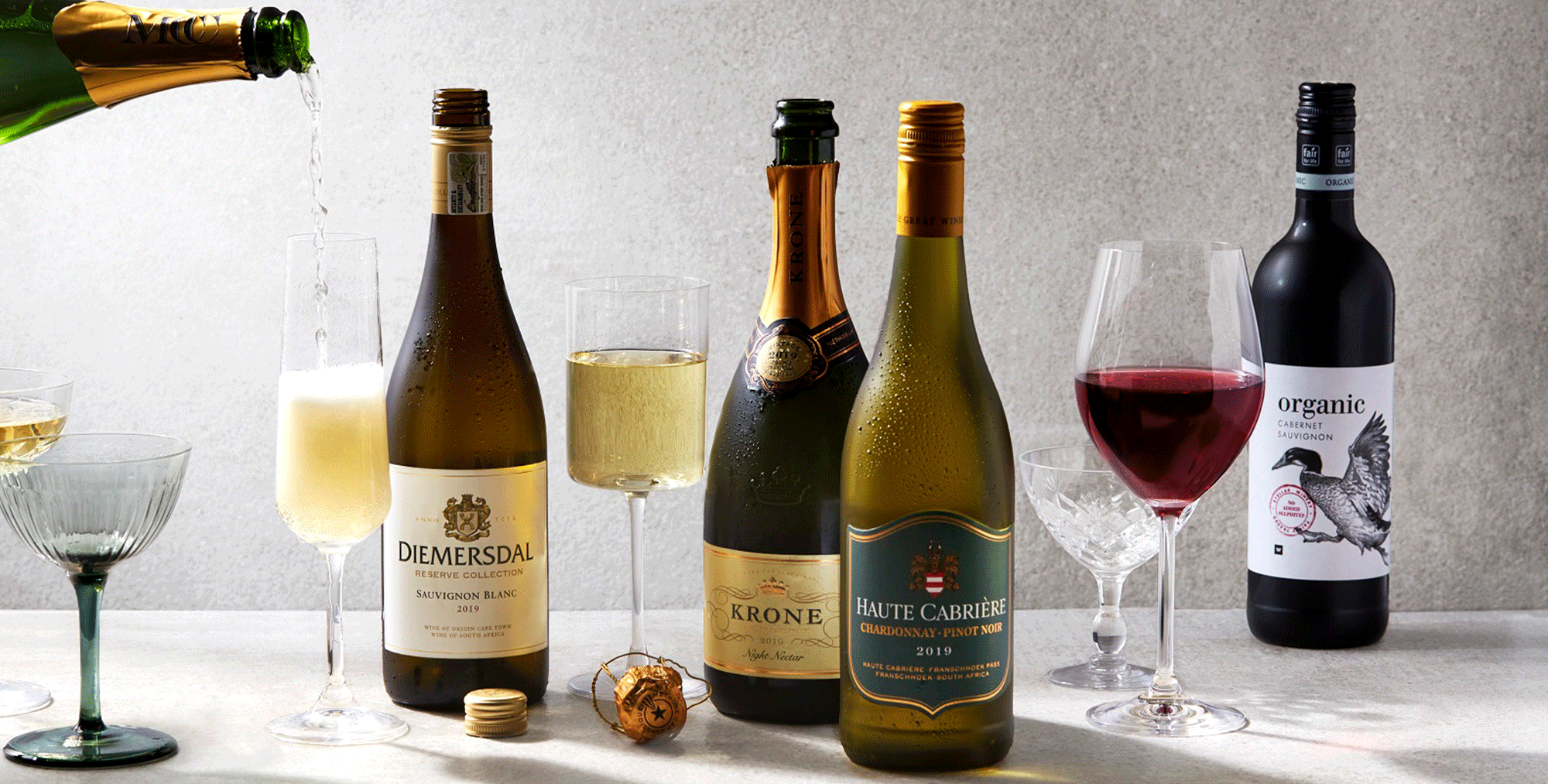 Case study: WCellar
New Media launched the WCellar wine club for Woolworths, resulting in a double-digit growth in wine sales – a real return on investment.
Woolworths is a long-time New Media client. We've produced TASTE magazine for them for nearly two decades and also create the content for TASTETube, taste.co.za and TASTE's social media, as well as for Woolworths' own social media. The TASTE brand aims to inspire readers while making cooking accessible, supporting Woolworths' positioning as the leading quality food retailer in South Africa.
In February 2019, Woolworths approached New Media to add a branded wine club to their portfolio.
The opportunity
Woolworths had been wanting to start a wine club for some time in response to proposed government legislation that would ban communicating with customers about alcohol unless they had opted in.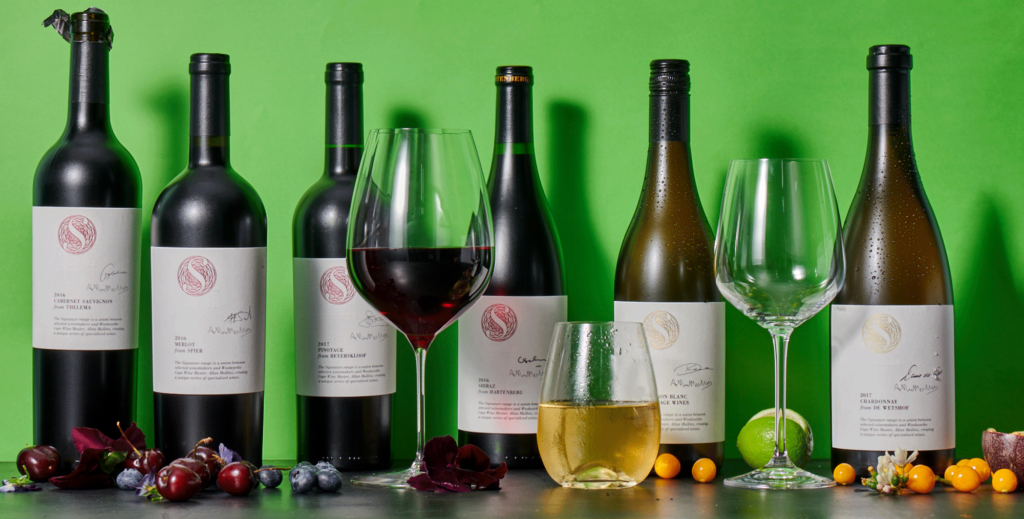 The options under the umbrella of a wine club are endless and the biggest challenge was not to get bogged down in where this could go, but rather to start somewhere to see what the traction would be. So we pared back the strategy in the interests of getting something viable off the ground quickly.
The solution
We built the communications strategy around three key pillars for the customer: What do I get? What do I know? What do I experience? The answer was to create an entity called WCellar and a monthly mailer to educate customers about wine, give them special offers and discounts, and offer them the chance to attend an event or win wine-related prizes.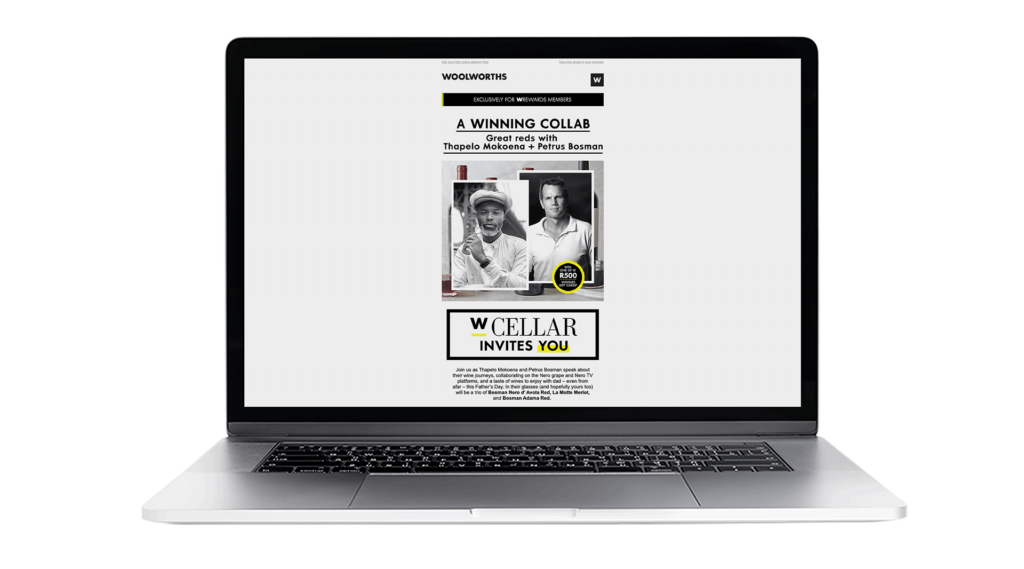 As a companion piece, a wine hub was created on the Woolworths site to house additional content that the mailer could click through to. We repurpose all this content from TASTE magazine, making it a very cost-effective solution.
The results
The initial target group for sign-up was 350 000 people who had bought wine from Woolworths within a certain period. Of that, 17 000 have signed up, a 4.8% conversion. The monthly mailers achieve an open rate of over 53% on average, well ahead of the industry standard of 15 to 25%.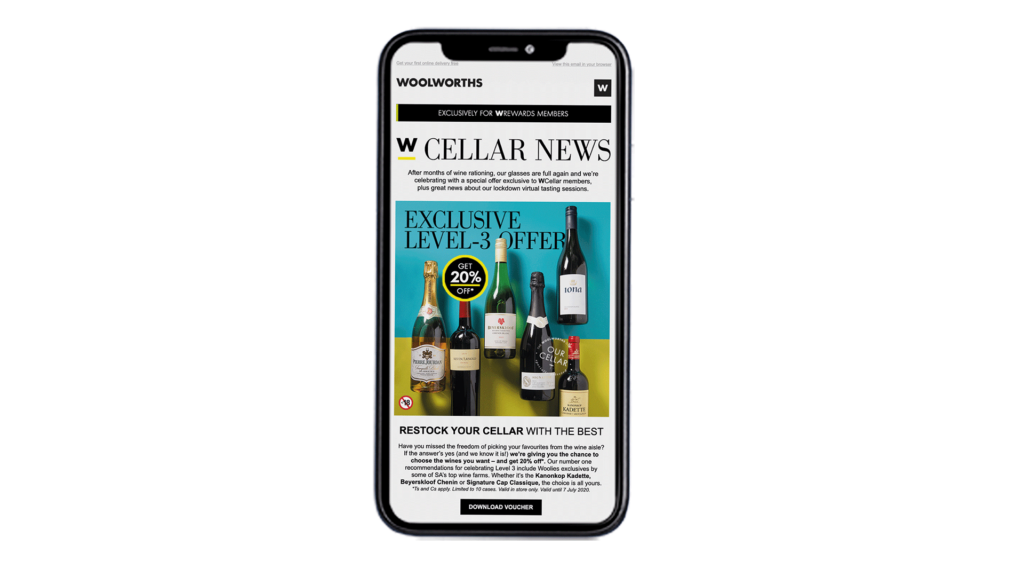 The results that really count
We wanted to create a database of engaged wine customers but, of course, the ultimate goal was to sell more wine too. The results have been fantastic, with a year-on-year increase in wine sales over a five-month period of 20% for the VIP-tier customers who opted in to WCellar and 38% year-on-year for the regular-tier customers who opted in. There was little movement in year-on-year wine sales among customers who didn't opt in.
For the first eight months of the project, Woolworths saw a return in sales of three times the amount they had spent in content with New Media and on promotions and incentive vouchers, showing real return on investment.
---
With the launch of WCellar, we wanted to focus on personal connectivity with our wine customer. New Media's content approach made them the ideal partner to work closely and collaborate with on this project. Seeing that personal connection created with our customers through content translate into significant sales uplifts has really shown the effectiveness of good content marketing."

Christy Wren, Marketing Manager: Foods at Woolworths